16+ Jobs for Accounting Majors in 2023 was originally published on Forage.
With an accounting degree, jobs are available in practically every industry. Accounting is a broad area of financial services that involves researching, reviewing, and reporting financial information. However, the skills you learn while obtaining an accounting degree are highly transferable, and the best jobs for accounting majors capitalize on accountant students' analysis, research, attention to detail, and organizational skills.
Jobs for Accounting Majors by the Numbers
Average Salary Projected Job Growth 2021-2031Accountant or Auditor$86,7406%Accounting Clerk$47,440-5%Actuary$127,58021%Benefits and Compensation Analyst$75,9207%Budget Analyst$87,6803%Claims Adjuster$73,380-6%Financial Analyst$108,7909%Financial Examiner$95,61021%Financial Manager$166,05017%Insurance Underwriter$82,990-4%Loan Officer$84,1604%Management Analyst$104,66011%Personal Finance Adviser$137,74015%Property Appraiser$80,4604%Purchasing Agent$75,140-6%Tax Examiner$64,410-7%
Find your career fit
Discover the right career path for you with a free Forage job simulation.
Best Accounting Degree Jobs Explained
1. Accountant or Auditor
Accountants and auditors are experts at reviewing and reporting financial details. However, the job titles accountant and auditor encompass several unique roles, including:
Public accountant or Certified Public Accountant (CPA): Public accountants and CPAs record, review, and report financial data for public companies or companies publicly traded on the stock market. Public accountants typically work for accounting firms and act as a third party that ensures public companies accurately report financial information to the public and government.
Staff or private accountant: A private or staff accountant works internally for a company or business, performing day-to-day accounting duties, such as keeping track of transactions, reviewing quarterly performance reports, and overseeing budgets.
Internal auditor: Internal auditors perform audits of a business's finances, processes, systems, and controls as employees of the company.
External auditor: External auditors work for accounting firms and perform audits on public companies. Public companies are legally required to undergo periodic financial audits from a neutral third party, like an accounting firm.
Accountants and auditors can also specialize in specific areas, such as forensic accounting, tax accounting, or management accounting.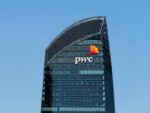 PwC Audit
Learn how professionals perform external audits with this free job simulation from PwC.
Avg. Time:
4 hours
Skills you'll build:
Analysis, documentation, communication, compliance analysis, issue identification, client communication
2. Accounting Clerk
Accounting clerks work under senior accountants to help review and record financial information. Some accounting clerks work in specific business areas, like shipping and receiving, accounts payable, or accounts receivable. An accounting clerk may also specialize in bookkeeping or auditing.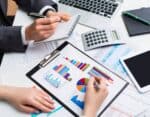 Koch Accounting
Develop fundamental financial analysis and reporting skills with Koch's free job simulation.
Avg. Time:
2 to 3 hours
Skills you'll build:
Critical thinking, problem solving, organization, Excel, data analysis, communication, financial acumen, project management
3. Actuary
Actuaries handle risk management using statistics, mathematics, and financial theories. In many areas of financial services, including insurance, an actuary's job is vital to the company's success — actuaries are experts at predicting what could go wrong and devising plans to avoid them.
>>MORE: Discover the difference between actuaries and accountants.
4. Benefits and Compensation Analyst
Human resources departments, especially at large corporations, need analysts to review the programs and perks afforded to employees. Budget and compensation analysts are experts at researching benefit plans and policies, helping companies stay competitive and attractive to new talent. A budget and compensation analyst must also report research findings and ensure compliance with local, state, and federal regulations.
5. Budget Analyst
Budget analysts create budgets and help companies devise ways to stick to the plan. Some of a budget analyst's duties include evaluating budget requests, analyzing purchasing options, and recommending to management teams how to best allocate resources. Additionally, budget analysts keep a close eye on the organization's spending throughout the year and recommend adjustments when necessary.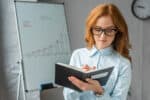 Chartered Accountants ANZ Business
Explore the skills you need to run your own business and handle complex financial decisions with this free job simulation.
Avg. Time:
3 to 4.5 hours
Skills you'll build:
Profit and loss, competitor analysis, pricing structure, business model canvas, collating findings, research
6. Claims Adjuster
A claims adjuster, appraiser, examiner, or investigator is responsible for determining the validity of and fault for insurance claims. When you submit a claim to your auto, home, renter, or health insurance company, a claims adjuster looks at all the details, figures out exactly what happened, and decides how much the insurer will cover.
7. Financial Analyst
Financial analysts can have a range of responsibilities, including researching companies for mergers and acquisitions, helping senior management create long-term financial plans, or tracking the performance of a specific company product or service. Many financial analysts seek certifications, like the Chartered Financial Analyst (CFA) designation, to make themselves more marketable to employers.
JPMorgan Corporate Analyst Development Program
See if you have what it takes to be a financial analyst at a top banking institution with this free job simulation from JPMorgan.
Avg. Time:
4.25 to 5.75 hrs
Skills you'll build:
Excel, data analysis, communication, data visualization, process mapping, process improvement, storytelling, project management
8. Financial Examiner
The focus for financial examiners is compliance. Typically working for banking and financial institutions, financial examiners ensure the company meets all local, state, and federal regulations and periodically assess the organization's financial health. A financial examiner also must craft internal guidelines and policies for employees to help them understand the necessary rules and regulations.
9. Financial Manager
Financial managers oversee an organization's finances and carry the responsibility for a company's financial health. A financial manager must analyze, review, and report financial metrics and create long-term plans to ensure the business meets monetary goals. Some financial managers are top executives, like chief financial officers (CFOs), while others are in charge of a specific finance-related department, such as accounting or accounts receivable.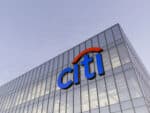 Citi Finance
Build core financial management skills with this free job simulation from Citi.
Avg. Time:
3.5 to 5.5 hours
Skills you'll build:
Fact finding, data analysis, communication, presentation, judgement, commercial awareness
10. Insurance Underwriter
Insurance underwriters determine if a person is approved for an insurance policy. The process of judging eligibility involves reviewing the person's claims history, financial status, and other risk factors, like underlying medical issues for health insurance or a history of speeding tickets for auto insurance. Some similar career paths include loan or mortgage underwriting, securities underwriting, and actuarial sciences.
11. Loan Officer
Loan officers help people find and apply for mortgages, personal loans, and business loans. In some cases, loan officers are also underwriters, and they determine if a person is eligible for a loan based on their credit score, financial history, and income.
>>MORE: Learn the subtle differences between underwriters and loan officers.
12. Management Analyst
A management analyst is responsible for reviewing a company's systems and processes. Management analysts seek to understand how a business manages its daily operations and determine if there are areas of inefficiency or inaccuracy. Often, management analysts are consultants, working for a large firm and offering their skills and expertise to client companies.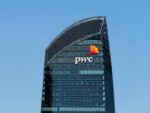 PwC Management Consulting
Learn how management analysts help adapt, improve, and evolve intricate systems with PwC's free job simulation.
Avg. Time:
5 hours
Skills you'll build:
Analysis, research, financial statements, business performance, prioritization, qualitative data collection, communication, attention to detail, presentation, PowerPoint, Excel, modeling
13. Personal Finance Adviser
Personal finance advisers (PFAs) help people meet financial goals, such as getting out of debt or saving for retirement. A PFA may help clients explore investment opportunities and create daily, weekly, or monthly budgets. Some PFAs seek certifications and licenses, such as the Certified Financial Planner (CFP) designation, allowing them to offer their clients a broader range of financial services.
>>MORE: Explore if finance is a good career path for you.
14. Property Appraiser
Property appraisers or assessors investigate and evaluate tangible properties, such as real estate, collectibles, vehicles, antiques, and jewelry. By understanding the value of properties, clients can insure them accurately, make sales strategically, and ensure they're paying the correct amount in taxes.
15. Purchasing Agent
A purchasing agent is responsible for sourcing and evaluating products and services for an organization. For instance, a purchasing agent may compare a handful of dry ingredient suppliers for a bakery to find the vendor who offers the highest quality product at the best price. Purchasing agents must analyze vendor information, negotiate contract details, and assess new vendor options.
An experienced purchasing agent may work more closely with a company's senior management and develop long-term procurement policies as a purchasing manager.
16. Tax Examiner
Every business and individual pays taxes, and tax examiners ensure taxes are filed and paid correctly. Some tax examiners work as tax preparers, helping individuals and small businesses file their tax returns and handling any discrepancies. Other tax examiners work for large corporations as tax accountants, managing and filing international businesses' highly complex tax returns.
Tax-related careers exist in virtually every industry and at every level of government. For instance, local, state, and federal government organizations have tax revenue agents who review tax returns for accuracy and tax collectors who handle overdue accounts.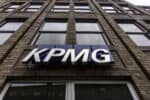 KPMG Career Catalyst: Tax
Explore the world of tax and learn how tax professionals at KPMG help clients understand their needs with this free job simulation.
Avg. Time:
3 to 4 hours
Skills you'll build:
Tax research, technical writing, critical thinking, data modeling, Excel, manipulating data, Excel modeling, communication, team building, tax types
Top Skills for Accounting Degree Jobs
One primary skill you learn while getting an accounting degree is applying the generally accepted accounting principles (GAAP). These are a set of standards of conduct for accountants and help create consistency across financial reporting and regulation. While many accounting major jobs don't use GAAP itself, understanding the importance of consistency, accuracy, and ethical practices is essential in nearly any role.
In an accounting program, you'll develop vital hard skills, such as: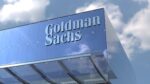 Goldman Sachs Excel Skills for Business
Learn fundamental Excel skills that accountants and finance professionals use every day with this free job simulation from Goldman Sachs.
Avg. Time:
4 to 5 hours
Skills you'll build:
Excel, cell basics, formatting, assumptions, financial forecasting, income statements, cash flow modeling, charting
Accounting and financial services careers require working with many different teams and departments to solve complex problems, so it's important to develop soft skills like:
Explore your career options and solidify your skills with Forage's free job simulations.
Image credit: Canva
The post 16+ Jobs for Accounting Majors in 2023 appeared first on Forage.